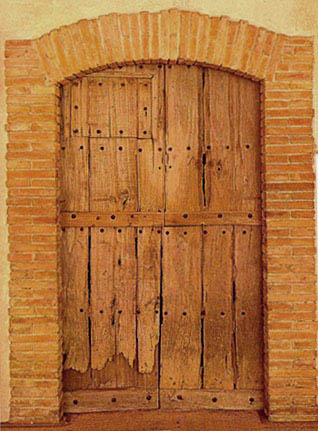 Quoted by Jasper Johns as "one of the strangest works of art in any museum",
Eta
nt donnes: 1 la chute d'eau, 2 le gaz d'eclairage
celebrates it 40th anniversary of it's public unveiling and installation at
the Philadelphia Museum of Art
.
This was a surprise gift to the museum, in accordance with Duchamp's wishes, it joined one of the largest collections of his works. The doors may seem simple enough, but the experience is all too memorable once you "peep" through the two little holes in the center of the door.
In celebration of this anniversary, the museum presents the first exhibition to study the genesis, construction and reception of Duchamp's final masterwork. With over 100 works,
Eta
nt donnes
pulls together an extraordinary assemblage of related works including books, works on paper and photographs.
For over 20 years
Duchamp worked in secrecy on this assemblage, not until after his death was it discovered in his studio. This work is untranslatable via photograph or written word. It is an unforgettable experience that can only be Duchamp.
This exhibition will be at the Philadelphia Museum of Art through November 29, 2009.

Check out what's new in KiptonART magazine!
Kipton Cronkite Approved!