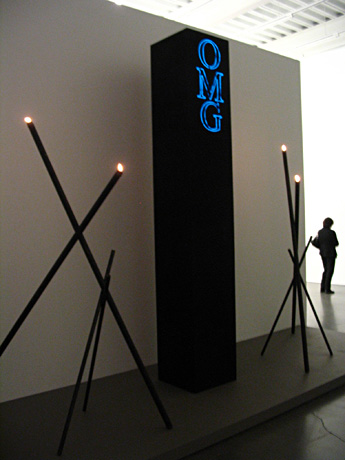 From April 8-June 14, 2009,
"The Generational: Younger Than Jesus"
exhibition is on display at the New Museum in New York. This is the museum's first exhibition devoted exclusively to the artistic output of the generation born around 1980. At a time when this demographic--variably labeled the "Millennials," "Generation Y," "iGeneration," or "Generation Me"--has already become the subject of discourse surrounding pop culture, marketing, polititcs, international relations, and the economy. "Younger Than Jesus" offers an opportunity to explore its artistics production on an international scale. Drawing from the belief that some of the most enduring gestures in art have been carried out by artists early in their careers, "Younger Than Jesus" brings together the work of 50 artists from twenty-five countries, all of whom are under the age of thirty-three.
The museum gathered materials on more than 500 artists, which were reviewed by exhibition curators Lauren Cornell, Massimiliano Gioni, and Laura Hoptman.
The New Museum
is located at 235 Bowery, New York, New York.
Kipton Cronkite Approved!