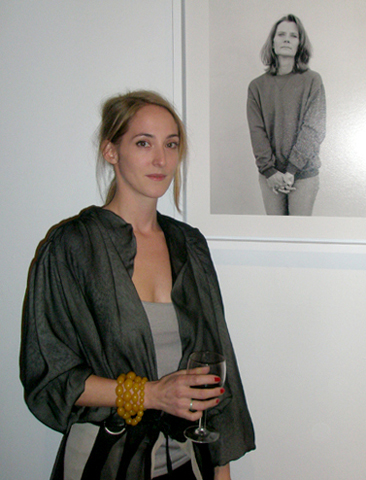 Poppy de Villeneuve
(www.poppydevilleneuve.com) drew a great
crowd to the opening of
her most recent exhibition this past week
at the Soho Grand Hotel, Manhattan. The
specially commissioned
series You Are Everywhere displayed immobile star struck
individuals
amongst the crowds watching live music.The exhibition will run until
September 2nd so go take a look and be inspired. Here are Poppy's answers to our five questions.


Where is your hometown?

West Sussex, UK


What was the first thing that came to mind after your opening?

What time do I leave for Pittsburgh...I had a 5a.m. call time to drive to
make work
in a foundry...


Why did you choose this subject?
I chose people listening/watching music as they become so entranced
and they become
reverent. Music can be blinding. I wanted a subject
that was simple and visual and
accessible.


What or Who was the biggest influence on your education?
I think Film/TV in general was/is a huge influence. I remember Twin
Peaks and how it
felt like such a different world. I wanted to visit that
world. That's what taking
pictures is for me, an invitation into a different
existence. Also growing up
between the wild countryside of England
and small town Ohio was such a jolting
experience that it influenced me
in revealing the differences/similarities in
people.


What is one of your favorite exhibitions?
Although I never saw it, I've seen several prints from Avedon's -" In the
American
West" every time I see those faces, it blows my mind...
Read more on the KiptonART Online Magazine!
Kipton Cronkite Approved!